Liftgates
Tommy Gate offers a full line of liftgates for any personal, commercial, or industrial application. Depending on your particular cargo-handling needs and your vehicle, certain liftgates may be more suitable than others. Available in both steel and extruded aluminum.
OFFERED MODELS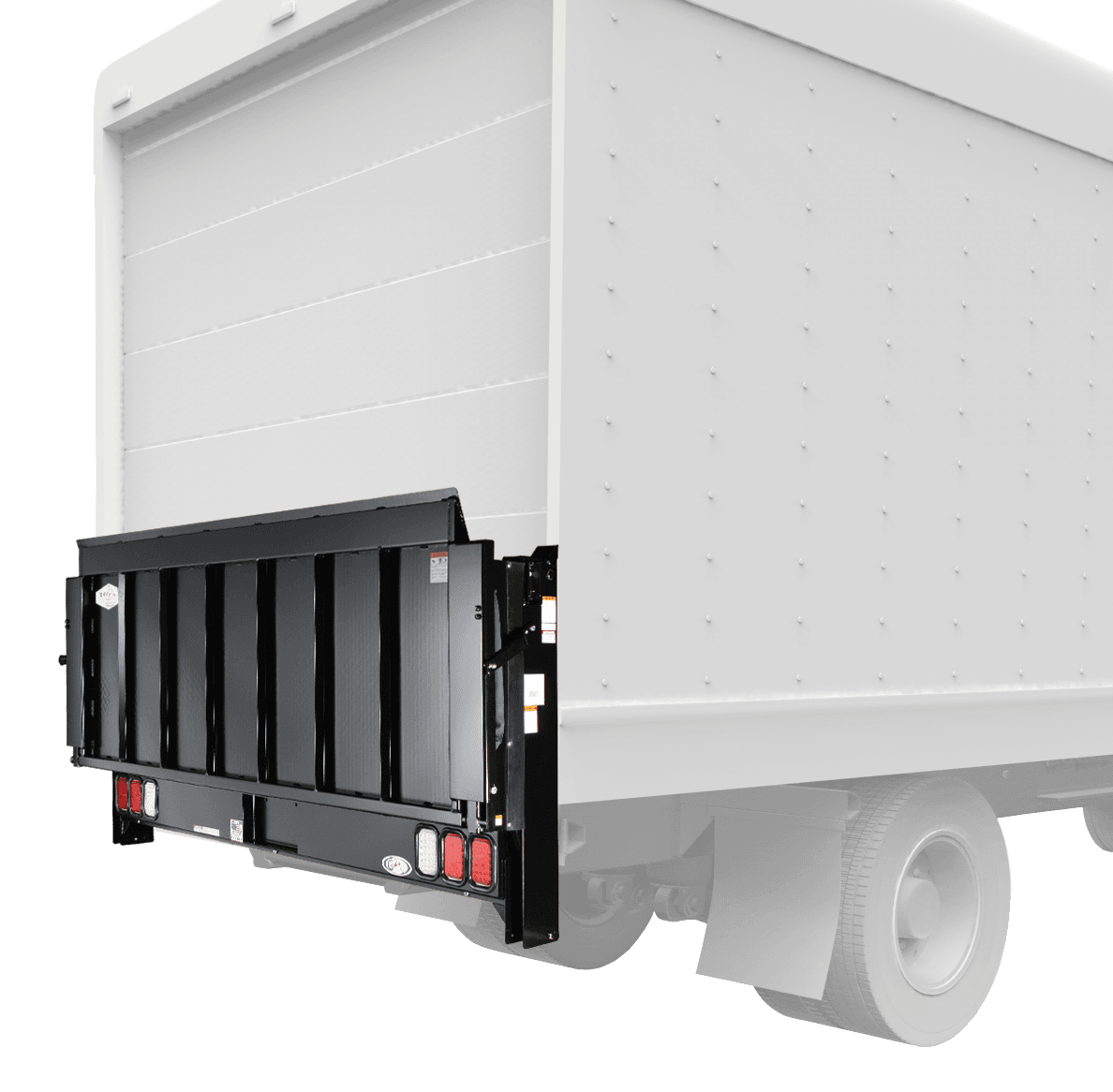 G2 Series- Tommy Gate's G2 Series is the latest in parallel-arm technology. Dual hydraulic cylinders apply direct power to both sides of the platform for increased consistency in motion and stability. Applications include: Pickups, Service bodies, Platform bodies, Box truck/Van bodies, and Dump beds.
Tuckunder Series- (TKT) (TKL)
TKT models address all the concerns a liftgate operator faces. With self-leveling and power down functions, the lift is simple to use and reliable. The large platforms easily accommodate pallet-sized loads. And, the wide-arm, dual-cylinder design assures sturdy and consistent lifting action. Applications include: Platform bodies and Box truck van
TKL models feature a single-cylinder, power-down, highly efficient design and accommodates bed heights from 33 to 47-inches. Lightweight and durable, the TKL combines sleek modern engineering and 2500lbs. of lifting capacity. Applications include: Platform bodies and Box Truck van
Railgate Series-
RAILGATE SERIES: HIGH-CYCLE This medium-duty railgate is ideal for high-cycle applications in any environment. These lifts are built with the highest quality components and place a priority on function and safety.
RAILGATE SERIES: BI-FOLD High-Cycle models support large steel platforms and high lifting capacities while still remaining completely dock-compatible. The platform drop-down function allows work vehicles to load and unload in any manner at any location.
RAILGATE SERIES: HIGH-CYCLE GBR High-Cycle Gas Bottle Rack models incorporate the "High-Cycle" drive system and feature folding, gas bottle rack platforms. Ideal for gas cylinder transporters, these liftgates support higher lifting capacities and feature a platform drop-down function allowing work vehicles to load and unload in any manner at any location.
RAILGATE SERIES: STANDARD The Tommy Gate Railgate Series consists of expertly-engineered lifts that allow for higher weight capacities and deeper platform loading areas. Standard model railgates employ a padded-slider system and are offered in both steel and aluminum frames.
RAILGATE SERIES: DOCK-FRIENDLY Dock-friendly models feature folding RF platforms able to achieve non-obstructing positions for forklift or dock loading, making them some of the best liftgates ever seen in a loading bay.
V2 Series- The latest in liftgate technology, the V2 Series by Tommy Gate provides the maximum platform loading area while occupying the smallest possible space when stored in the rear of the van.
Cantilever Series- The Tommy Gate Cantilever Series is a modern hydraulic lift that is specifically designed to operate seamlessly with commercial vans.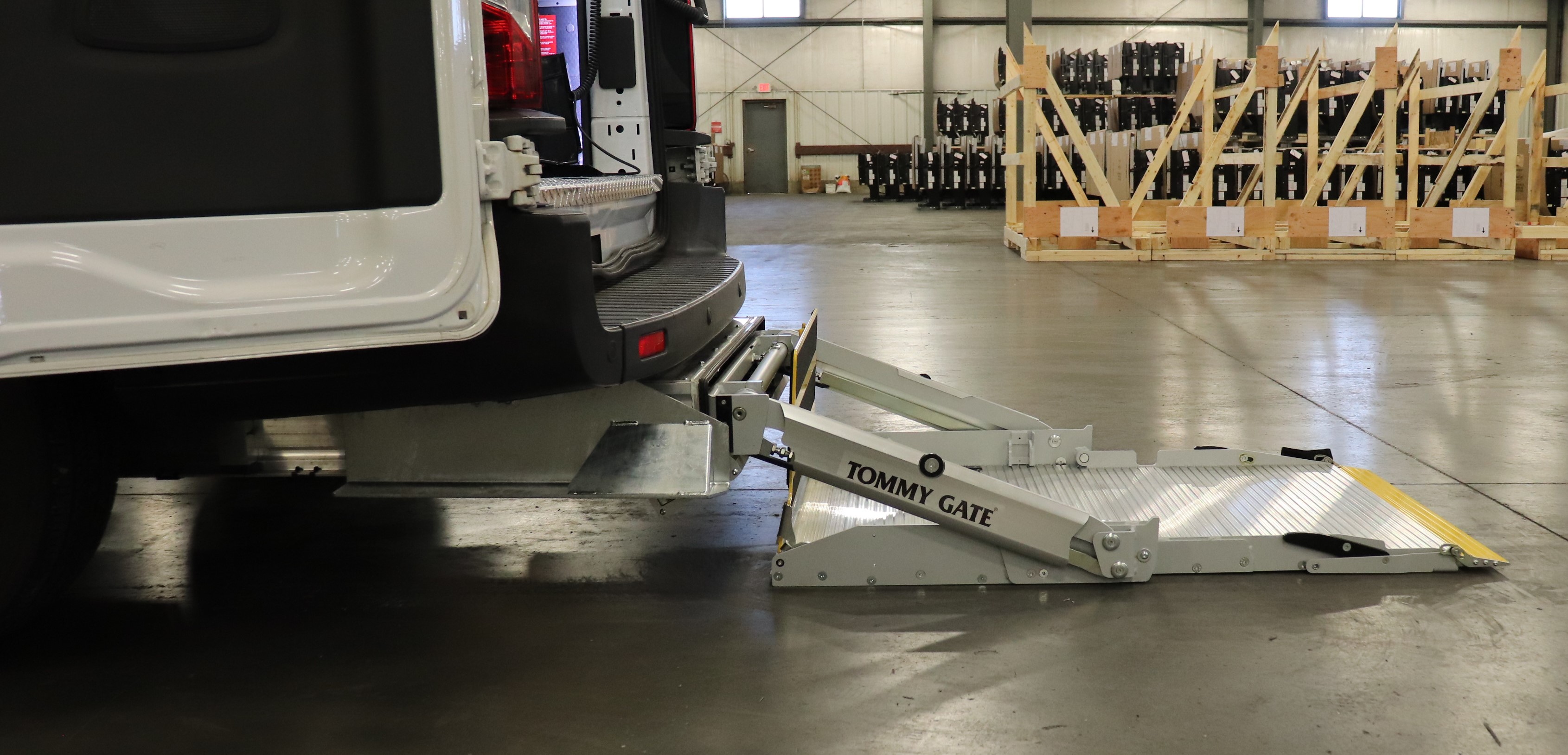 Cassette Liftgate- It's there when you need it and not when you don't. The Cassette Liftgate mounts below the van, giving full access to the back of the vehicle without using the lift.
650 Series- Low-capacity, compact, and internally-mounted, the 650 Series is the ideal liftgate for lightweight van applications. 650 Series models fold up and store out of the way of ordinary tasks or flat against the inside of the rear door.
Thieman Tailgates, Inc. markets a full-line of hydraulic liftgates for light, medium, and heavy-duty trucks and trailers. Toplifters, Stowaways, Railgates, Sideloaders, and Conventional models are all part of the Thieman line-up. From 1000lb to 6600 lb lifting capabilities, Thieman can provide a liftgate for almost every application.
OFFERED MODELS
Stowaway Liftgates- THIEMAN M Series Stowaway is the industry standard for handling medium-duty loads. Designed for fast and easy installation, the M16/20/25/30 includes a pre-assembled pump and cylinder. With the dual torsion spring assist, the operator can fold and unfold the platform with much less effort.
Conventional Liftgates- Designed for use on stake and van bodies, the THIEMAN WT series is the most durable, dependable, conventional liftgate on the market today. The WT is built with many standard features including a wide-arm, dual cylinder lift, giving maximum lifting stability when handling sizeable loads. With the addition of cast bronze bearings at critical wear points, this conventional style liftgate is built to last for many years.
Heavy Duty Railgates- Designed for handling heavy palletized or bulky loads, the THIEMAN VL series is available with platform sizes up to 90"wide x 72" deep.The THIEMAN VL platform lowers below bed height for dock loading and easy access to the cargo door. Designed for strength and durability, the VL is built with the strongest "H" frame in the industry. With the heavy duty frame, high quality roller bearings and a cycle tested, premium lift cable, the THIEMAN VL is the leader of its class.
Medium Duty Railgates- Designed for use on van and stake bodies, cutaways, and step-vans, the THIEMAN TVL railgate series is the most reliable, low-maintenance, general-purpose liftgate available in the industry. This popular railgate has the widest range of lift capacities in its class and is available for above-bed and special low-bed applications. With its many standard features and versatile options, the TVL series from THIEMAN continues to be the leader of the general-purpose railgates.
Side Loader Liftgates- Designed for both truck bodies and trailers, the THIEMAN SL series is the most cost effective side-loading liftgate available.With the use of a high-strength extruded aluminum platform and teflon composite bushings at major wear points, the THIEMAN sideloader's life expectancy is much longer than other models on the market.